Buddy Arrington
by: Gary S.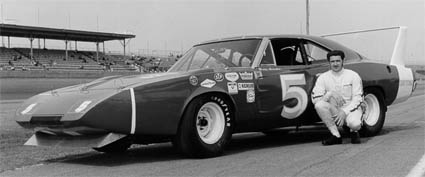 Anyone who ever spent 5 minutes bench racing with a bunch of Mopar guys knows all about Richard Petty and the records he set behind the wheel of his #43 Plymouths and Dodges during the 60's and 70's. What you might not have heard is a bit of history about the most loyal Mopar driver to ever hold a NASCAR racing license. His name is Buddy Arrington, one of the last truly independent owner-drivers and the very last to seriously race a Mopar in Winston Cup.
Buddy Arrington's first foray into NASCAR's Grand National/Winston Cup series was the third race of 1964. It was a half-mile dirt track in Jacksonville, FL where his'63 Dodge rolled off twentieth in a field of 22 cars. When the checkers flew, he had worked his way up to eighth place. Not bad for a rookie's first race, in a home-built car.
Despite his great finish, not much attention was paid the new Dodge driver that day because a racing controversy eclipsed the deeds of the young driver from Martinsville, VA. The big news was Wendell Scott winning his first and only GN/WC race. Wendell's '62 Chevy won by 2 laps over Buck Baker in a '63 Pontiac, but Baker was presented the winner's trophy because the race promoters were scared to declare Scott the winner because Scott was black. They did pay him first place money after the fans had all left the track, but the trophy disappeared before he could claim it. But that's another story.
Arrington's '64 rookie season was less than spectacular, but not bad either. He entered 24 of the 61 races run that year and scored 2 top 5 and 9 top 10 finishes, to place thirty-fourth in points.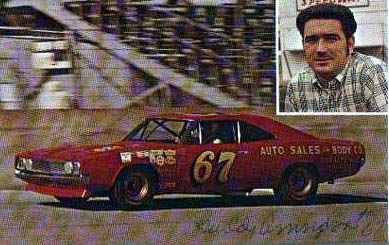 The next few years saw Arrington continue to run a limited schedule, and when he entered a race, he consistently posted respectable finishes. His best percentage season was '72 when he ran only 20 races and earned top 10 finishes in half of them.
Buddy inherited the title of Mr. Mopar after Petty built a Chevy and sold his Magnums to Arrington in '78. Though his racing equipment throughout his career was often comprised of bits and pieces of well broken-in Petty stuff, he did build some of his own cars, especially after Petty went to GM. Chrysler never officially provided financial aid and he received only limited technical advice, since Chrysler was in the throes of near bankruptcy during the time it was most needed.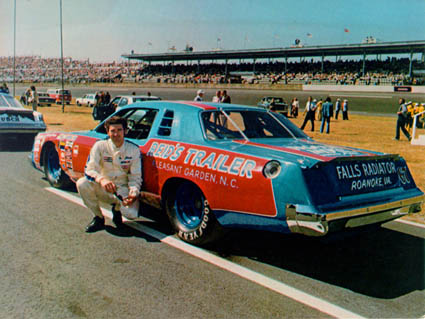 Despite his under-funded independent operation, Buddy managed to rack up a third place finish at Talladega in '78, and might have won except for a problem encountered during a pit stop. It was especially heartbreaking, because his all-volunteer pit crew had earlier in the day won the Craftsman Pit Crew Competition over all the big teams.
1982 was the best season for Buddy. He entered all thirty events and wound up seventh in Winston Cup points to finish ahead of drivers like Dale Earnhardt, Mark Martin and Bill Elliott. That year he also became the first Winston Cup driver in history to reach a million dollars in prize money without winning a race.

The Magnum, Cordoba, Mirada and Imperial were not the best aerodynamic designs, but Buddy continued his loyalty to the Pentastar during the early 80's. He continued to struggle with obsolete equipment and little or no sympathy from NASCAR. He tried to convince NASCAR to allow him to use coil spring suspension so he could put a modern chassis under his sheet metal, but since Chrysler used torsion bars and leaf springs in their production models, the rules demanded their racecars use the same. Needless to say, no one was building a chassis with that combination so Arrington had to constantly repair old equipment and do his own engineering.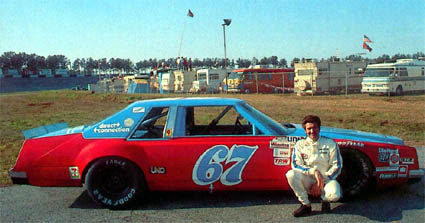 Engine parts were also drying up and Chrysler wasn't doing any development work on oval track engines. The wealthy teams and the aftermarket were developing heads and internal parts to improve performance of GM and Ford products while the lone Mopar team scrounged junkyards for used W2 heads and 340 blocks to build their engines. The need to turn more RPM's demanded a serious re-design of the LA block and heads to relocate the cam and decrease the severe angle of the pushrods, but it would not be forthcoming for nearly 20 years.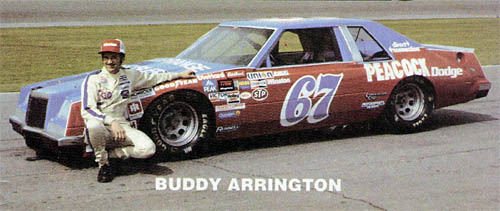 Unfortunately, or mercifully, the end was in sight. 1983 was the last year Chrysler built a RWD 2-door car and the three-model year Winston Cup rule meant that 1985 would be the last year the body style could compete. Mid-way through the '85 racing season, Arrington Racing reluctantly switched to Ford, when Bill Elliott offered to give him good deals on his used equipment. It was heartbreaking to see the blue #67 on a red and blue Thunderbird, but it allowed Buddy to have another two seasons doing what he loved most.
It was a racing career that many drivers could envy, despite the fact that Buddy never won a Winston Cup race. He persevered with hard work and volunteer-labor and made a living doing what he loved. Arrington Racing never had a big sponsor and if Buddy didn't have a good day at the track, his used car lot and VW repair business paid the bills.
His fan club also helped finance his racing efforts. Members made contributions, old racing items were auctioned off and raffles were held to raise money to freshen an engine or to buy a set of sticker tires for that special track where Buddy usually did well.
Buddy Arrington Racing Club president, Bob Laird, was the race-day jack man, as well as newsletter editor and publisher, public relations director and chief fundraiser for the race team. Everyone on the team wore more than one hat, but they wore them all proudly.
If Arrington had been a young, articulate and attractive driver when big sponsor money began to reach the sport in the eighties, he might have been one of the stars, since there was no question about his driving ability. A quiet, easygoing, middle-aged man with passé Elvis sideburns, a slow Virginia drawl and loyalty a mile deep, was not what the big money sponsors wanted at that time. But then he might not have been happy hawking beer or corn flakes for a sponsor instead of working on his racecar.
By now, you might be thinking that the Arrington surname rings a bell and if you follow modern NASCAR racing you have already made the connection. Yes, the wizard who builds most of the competitive Dodge engines in Winston Cup and the Craftsman Truck Series today is Joey Arrington, Buddy's son. He was the engine builder and crew chief during the final years that Buddy raced. So even if there was a Ford lurking behind the #67 for a couple of years, there was always a Mopar in the hearts of the Arrington family. As usual, it just took awhile for the Chrysler executives to catch up with their fans.