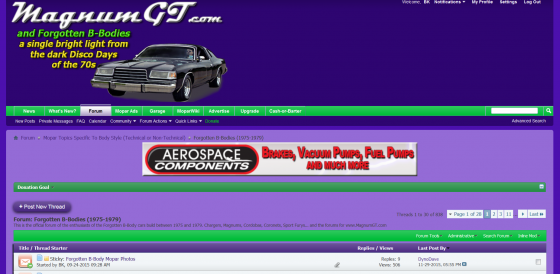 As a huge fan of the 1978-1979 Dodge Magnums — I created this web site back on January 1, 2002 to promote the marque to other Magnum enthusiasts. In addition to this site, there is a fairly large Facebook Presence and a forum at MoparStyle.
However, now that I'm in my sixties, my life has evolved to where I spend most of my time drag racing, on motorcycle trips, traveling with my wife, and spending time with my grandchildren. I just don't have the time to give this site the justice it deserves, and as such I'm selling the domain name and web site for a mere $1000.
This site has an established following that is perfect for those selling Mopar parts, a magazine, or even just a Magnum enthusiast. There is a lot of advertising revenue potential for someone who will put forth the effort.
The new owner will get the domain name with remaining time before renewal (about $9.95 a year), the web site data and full administration, two month free hosting with CP accesss, and the Facebook presence. I will also help with the transferring the site from a dedicated server to a shared server with a hosting plan as low as $2.26 a month. Further, I will turn over the administration of the Facebook page, which can be used to grow the activity of this site. If interested — email me at davetheoldhippie @ gmail with the subject MagnumGT.com